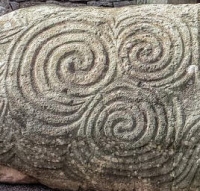 This four-day course, the Level 2 Advanced Deep Listening Training, is a follow-on training for those who have already completed a Level 1 Deep Listening Training Intensive. Fresh training material will be covered, supported by extensive experiential exercises, looking even more deeply into the dynamics of the listening relationship.
Participants will gain a larger array of tools, greater expertise as we look at ways to deepen our personal understanding of Awareness Centred Deep Listening and refresh our knowledge of the method. New material will be explored using specially designed experiential exercises to bring compassion, clarity and open awareness into the heart of listening. We look at the true nature of the listening relationship and we also consider how to best to create a truly supportive listening environment.
Completion of a Level 1 Deep Listening Training Intensive is a requirement for attending this course.
Location: This course takes place in the inspiring location of Dunderry Park House, Co. Meath, Ireland, which is one hour from Dublin Airport.
Special visit to New Grange
This course takes advantage of our close proximity to Newgrange to include a pre-booked half-day tour to visit Newgrange. Newgrange is an ancient structure built during the Neolithic period, around 3200 BC. Triple-spirals are carved on the entrance stone, ancient symbols which are the inspiration for our Deep Listening logo. The entrance is aligned with the rising sun on the winter solstice, when a shaft of sunlight shines through a 'roofbox' and floods the inner chamber.
Course fee: €550.00 includes accommodation and meals and entry fee to Newgrange.
Registration and supper commence at 5.00pm on Wednesday and the course finishes with lunch at 1.00pm on Sunday.
Booking: This training is hosted by Elaine Riche Care and you can book for the course directly at REGISTER on the previous page. This will take you to another website.
For more information about this course please contact: info@deeplistening training.com