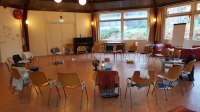 Advanced Deep Listening - Online
Four sessions across two days
Online listening is a real and inspiring way of meeting and gathering together in this time of restriction and limitation. Recent experience of online listening has shown that the profound connection, intimacy and presence offered by our deep listening way can transcend the distances. Magic moments still keep on happening.
Being grounded, being present, and offering each other compassionate care still come together when we listen to another online with real attention and connection, in small listening groups and in larger sharing circles.
Schedule: All times are CET, please take off one hour for the UK and Ireland.
All sessions will have a short break in the middle.
Session 1: Monday 10:30am - 1:00pm CET
Session 2: Monday 3:00pm - 5:30pm CET
Session 3: Tuesday 10:30am - 1:00pm CET
Session 4: Tuesday 3:00pm - 5:30pm CET
Social evening: Tuesday 7:00pm - 8:30pm.
Bring a drink and snack to share online.

Fee: £130.00. To book please use the Booking button below.
CPD attendance certificates available on request.